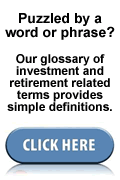 Welcome to 401khelpcenter.com
With the explosive growth of government and private internet sites containing information, opinion, analysis, marketplace news, legislation, court cases, rules, and other 401k and 403(b) resources, your challenge to identify salient information and issues that really matter is greater than ever. That's where 401khelpcenter.com excels. We are a knowledge service that finds, reviews, organizes and shares the best and most relevant information for people who sponsor, advise, design, administer, make policy about, participate, or are otherwise interested in 401k and 403(b) plans.
Marketplace News
Transamerica to Host Second Annual Retirement Readiness Summit
BlackRock Enhances CoRI Retirement Suite
Principal Hosts ERISA 3(16) Webcast for TPAs
InHub Launches RFP Tool for Institutional Investors
Invesco National Trust Launches 15 New CTFs
---

Daily News Digest
The Daily News Digest is where we aggregate the latest published material on 401k trends, fiduciary issues, legislative action, court cases, opinion, rule changes, insights, surveys, studies, commentary and more. The information is updated daily. Here are some of the latest items.
Summary: More Americans are saving for retirement through their employers' 401k programs. That's because in recent years they've been given a strong nudge -- more companies are automatically enrolling workers in retirement savings programs. Some firms are also automatically increasing the amount employees contribute. That's just as important, experts say. And all of this makes a big difference: Without it, millions of Americans don't save at all.
Source: Npr.org, April 2014
Summary: The IRS is increasing scrutiny into a complex practice for using retirement accounts to fund a business. The practice may trip up business owners who take advantage of it. In the end, it could cost them not only their retirement nest eggs, but open them up to paying back taxes and large penalties to the IRS.
Source: Smallbiztrends.com, April 2014
---

Collected Wisdom™
Our researchers look for what they think are some of the better resources available to assist you in administering your plan or helping your clients. We group these resources in our COLLECTED WISDOM™ topics to make it easy for you to locate the information you need. Each item in a category contains a summary and date of when it was placed in the group.
We also maintain some older material in these collections for perspective and context.
---

Insight: Research and White Papers
There is a great deal of research published around defined contribution plans and related issues. We index much of it here.
Summary: Over the 3-year span from 2009 through 2011, private-sector employers terminated about 106,000 DC and 9,000 DB plans. Thus, while tax incentives from increased contribution limits may have spurred new plan formation, other events--such as company consolidations and bankruptcies stemming from the recent recession--may have discouraged it.
Source: Gao.gov, April 2014
Summary: Nearly half of workers (46 percent) feel stressed about their current financial situation, although stress seems to diminish with age and among those seeking help. Only a third (35 percent) of baby boomers report they feel stressed about finances compared to half of Gen Y workers (51 percent). Those working with a financial professional were much less likely to feel stressed about their finances (33 percent compared to 51 percent).
Source: Principal.com

, April 2014
Summary: Recent economic shocks have prompted American workers to rethink their long-term financial goals and security. Many of them are feeling the pinch of higher out-of-pocket health costs, stagnant wages, restructured retirement programs and lingering financial losses. So it's no surprise to find that workers have become more concerned about their retirement security. Despite their financial worries, many are increasingly willing to trade cash compensation for greater certainty and more generous health and retirement benefits.
Source: Towerswatson.com, April 2014
---

Tools and Resources
Calculators, charts, samples, directories and other resources to help you run and manage your plan or practice.
---

Fiduciary Related News and Intelligence
These are general news and articles around fiduciary issues.
Summary: The U.S. Court of Appeals in St. Louis has affirmed a trial court ruling that plan fiduciaries violated their duties under ERISA by failing to monitor excessive fees remitted to a recordkeeper that was paid through revenue sharing. In addition, the court absolved the recordkeeper of liability for its use of float income retained on plan investments.
Source: Wolterskluwerlb.com, April 2014
---

Legal, Legislative and Washington DC
This is a directory and index of articles that review recent court rulings, legal issues, and bills, hearings and other actions in Congress.
Summary: President Obama's budget proposal for fiscal 2015 includes items from the State of the Union address, such as the new myRA retirement savings accounts and a minimum wage hike. The budget also includes proposals from earlier budgets, including limits on savings and benefits in tax-preferred retirement plans, a cap on tax preferences for employer-provided health and retirement benefits, and calls for higher Pension Benefit Guaranty Corporation premiums.
Source: Towerswatson.com, April 2014
---

Viewpoint: Commentary and Opinion
People speak out on a variety of issues of interest to those in the 401k industry. One of our most interesting areas, but remember, opinions expressed here are those of the author and do not necessarily reflect the positions of 401khelpcenter.com.
Summary: Author writes, "The lack of mandates for an adequate retirement plan is ironic given that most long-serving members of Congress look forward to more generous pensions than the vast majority of their constituents. A member of Congress retiring with 20 years of service under Federal Employees' Retirement System and a high three-year average salary of $174,000 will get an initial annual FERS pension of more than $59,000 -- on top of Social Security."
Source: Huffingtonpost.com, April 2014
---

Most Popular
Below you'll find this week's five most popular articles.