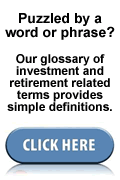 Welcome to 401khelpcenter.com
With the explosive growth of government and private internet sites containing information, opinion, analysis, marketplace news, legislation, court cases, rules, and other 401k and 403(b) resources, your challenge to identify salient information and issues that really matter is greater than ever. That's where 401khelpcenter.com excels. We are a knowledge service that curates -- finds, reviews, organizes and shares -- the best and most relevant information for people who sponsor, advise, design, administer, make policy about, participate, or are otherwise interested in 401k and 403(b) plans.
Marketplace News
Holland & Hart Adds Boise ERISA Attorney
CAPTRUST Adds Advisor to Greater New York City Area
Eagle Asset Hires National Director of DCIO Sales
Fidelity Emphasizes Retirement Outcomes With New Suite of Tools
Nationwide and LPL Integrate Platforms
John Hancock Implements New 401k Plan Pricing Model
---

Daily News Digest
The Daily News Digest is where we aggregate the latest published material on 401k trends, fiduciary issues, legislative action, court cases, opinion, rule changes, insights, surveys, studies, commentary and more. The information is updated daily. Here are some of the latest items.
Summary: Investment advisers and other financial advisers who create asset allocation recommendations based solely upon the belief that a client's time horizon is the most important investment factor should go ahead and call their E&O carriers and put them on notice. The argument commonly advance in favor of time horizon being the most important factor in asset allocation claim that time reduces risk. Various studies have shown that that simply is not true.
Source: Prudent Investment Adviser, March 2014
Summary: Four years after the launch of its Lifetime Income Analysis experience, participants in Putnam Investments-administered 401k plans continue to take significant steps forward in increasing their level of retirement preparedness.
Source: Plansponsor.com, March 2014
Summary: The receipt by the third-party 3(38) of compensation from the recordkeeper for rendering non-3(38) services to the recordkeeper calls into question the very independence of the third-party 3(38) and raises doubts about whether the 3(38) is free from constraining outside influences.
Source: Morningstar.com, March 2014
---

Collected Wisdom™
Our researchers look for what they think are some of the better resources available to assist you in administering your plan or helping your clients. We group these resources in our COLLECTED WISDOM™ topics to make it easy for you to locate the information you need. Each item in a category contains a summary and date of when it was placed in the group.
We also maintain some older material in these collections for perspective and context.
---

Insight: Research and White Papers
There is a great deal of research published around defined contribution plans and related issues. We index much of it here.
Summary: Judy Diamond Associates released an analysis of the best states in which to have a 401k plan. Those states with the highest concentration of top plans have higher participation rates and more employer generosity than their peers.
Source: 401khelpcenter.com, March 2014
Summary: The fundamental objective of a DC plan is to accumulate assets that will ultimately be withdrawn as a source of retirement income. Yet, the majority (96%) of plan sponsors do not know how much income their DC plan may be designed to yield. Moving forward, DC plans should be designed to target a percentage of an average earner's final net pay as an income replacement goal. Plan design is critical to helping participants with the key levers that contribute to better long-term outcomes such as participation, savings rates, and age-appropriate asset allocation.
Source: Fidelity.com

, March 2014
---

Tools and Resources
Calculators, charts, samples, directories and other resources to help you run and manage your plan or practice.
---

Fiduciary Related News and Intelligence
These are general news and articles around fiduciary issues.
Summary: Last year, Ian Ayres, William K. Townsend Professor at the Yale Law School and University of Virginia School of Law associate professor Quinn Curtis teamed up and threatened to disclose 401k plan sponsors who breached their fiduciary duty. They promised to reveal a study to back up their contention. The industry struck back and Ayres and Curtis suddenly faded from the scene. But, they're back.
Source: Fiduciarynews.com, March 2014
---

Legal, Legislative and Washington DC
This is a directory and index of articles that review recent court rulings, legal issues, and bills, hearings and other actions in Congress.
Summary: The Eleventh Circuit recently dismissed a participant's fiduciary breach claims against SunTrust's 401k plan fiduciary committee members on the ground that the claims for imprudently selecting certain investment options was time barred by ERISA's six-year statute of limitations.
Source: Erisapracticecenter.com, March 2014
---

Viewpoint: Commentary and Opinion
People speak out on a variety of issues of interest to those in the 401k industry. One of our most interesting areas, but remember, opinions expressed here are those of the author and do not necessarily reflect the positions of 401khelpcenter.com.
Summary: Last year, a Yale law professor publicized a study of 401k plan fees that suffered from a "world is flat" flaw; he used data from 2009 and seemed uninformed about the impact of subsequent developments have resulted in reductions in fees. However, much of the benefits community know that the increased attention on plan sponsor responsibilities that resulted from the "world is flat" Yale-study was a good thing.
Source: Pensionsbenefitslaw.com, March 2014
---

Most Popular
Below you'll find this week's five most popular articles.